4-DAY PHARPING PILGRIMAGE
With Sisse Budolfsen or Alex d'Artois
2018: / Nov 15-18 / Nov 29 – Dec 2 /\ 2019: \ Feb 21-24 \ April 25-28 \
In a Nutshell
The pilgrimage is held in the sacred area of Pharping, located in the South-Western corner of the Kathmandu Valley. If you are an ex-pat or resident living in Kathmandu, wishing to further explore Buddhist culture in Nepal and interested to learn about meditation practice, or if you are visiting Nepal and wish to add a few days to your programme by trying something unique in exploring sacred sites – this is your ideal long weekend get-away. The groups are a minimum of 3 and a maximum 12 people. We stay at a Tibetan Buddhist monastery, host to some 100 monks located on a hill in the beautiful sacred valley of Pharping, overlooking the entire Kathmandu Valley. This gives us an ideal opportunity to witness Buddhist monks in their daily lives in in the monastery, while at the same time it offers us the perfect environment to learn about Buddhist philosophy and meditation practice. In the afternoons we walk through rice fields to the Asura Cave – Padmasambhava's meditation cave, as well as hike through pine tree forrest up to Dudjom Rinpoche's retreat land – one of the greatest Tibetan Buddhist masters of our time. The Tibetan Buddhist monastery guesthouse where we stay serves delicious organic vegetarian meals, their rooms are cozy with a bath tub and hot water.
Introducing the Facilitators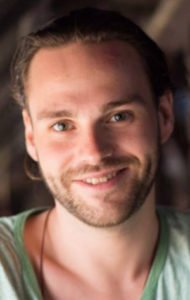 Alex d'Artois or Sisse Budolfsen will be the facilitators on these 4-Day Pharping Pilgrimages.
For more information about Alex & Sisse, please go here.
Daily Schedule
8:00 – 9:00 Meditation
9:00 – 10:00 Breakfast
10:30 – 12:00 Morning session on Tibetan Buddhism & Meditation Practice
1:00 – 2:00 Lunch
2:00 – 3:30 Free time
3:30 – 5:30 Visiting sacred places
7:00 – 8:00 Dinner
8:00 – 9:00 Evening meditation

Info on Meditation
There is no prerequisite for joining a pilgrimage, nor is it required to have any knowledge or experience with the practice of meditation. Simply, to have the wish to go deeper with one's mind, and to have curiosity regarding its functions is enough. There is nothing religious about the practice of meditation or in visiting sacred places. In fact, there is nothing even Buddhist about it! The idea of pilgrimage here means that while we are exploring sacred sites, we are also investigating ourselves with a 'tried & true' internal/contemplative process called meditation. The practice of meditation is simply a tool to bring your mind back to a place of naked awareness, to a place of basic space with yourself and environment. It is simply a technique with which to uncover all the layers of hope, fear, grasping, and judgement that are all such strong habits which cloud the mind. With the practice of meditation we can learn to come back to ourselves, to become familiar with the groundless, unfabricated, and raw quality of reality.
Itinerary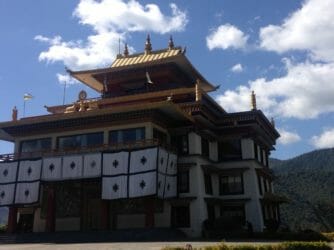 Tibetan Buddhist monastery in Pharping
DAY 1 – ARRIVAL AT THE TIBETAN BUDDHIST MONASTERY IN PHARPING
We gather at the Kathmandu Guesthouse's parking lot in Thamel at 5 PM so people who have been to work get a chance to join us for our pilgrimage toward Pharping and the Tibetan Buddhist monastery. We arrive just in time for dinner at the guesthouse restaurant. After dinner from 8-9 PM we give an introduction to the weekend pilgrimage and wind down with meditation practice before bedtime.

View over Pharping Valley
DAY 2 – TIBETAN BUDDHIST MONASTERY
We start the day with morning meditation in the Monastery shrine room and after breakfast we continue our session on Tibetan Buddhist philosophy and storytelling of great, Buddhist masters of the Himalayan region.
In the afternoon we become pilgrims as we hike through rice fields and local villages in the Pharping Valley. It is said that Padmasambhava attained his ultimate enlightenment in this place. We visit the cave of the self-arisen Tara; manifesting naturally from inside the cave, a sacred Vajrayogini spot (Buddhist deity) and other Padmasambhava caves. We practice mediation after dinner.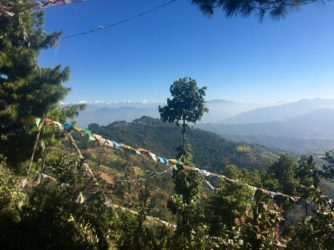 View of the Kathmandu Valley
DAY 3 – TIBETAN BUDDHIST MONASTERY
We start  the day with morning meditation in the Monastery shrine room and after breakfast we continue our session on Tibetan Buddhist philosophy and storytelling of great, Buddhist masters of the Himalayan region.
After lunch, we venture up the Haatiban hill through pine tree forest from the monastery to Dudjom Rinpoche's retreat land, overlooking the Pharping Valley. If weather permits, we are able to see the majestic Himalayas above the Kathmandu City.
We talk about the tradition of doing solitary retreat within the Tibetan Buddhist tradition, and guide a session of meditation in the small shrine room. We return to the monastery for a rest before dinner. We have a mediation session after dinner.

Philosophy session at the Tibetan Buddhist Monastery
DAY 4 – LAST DAY
We start the day with morning meditation and breakfast. After breakfast we have free time to rest. After lunch we finish the weekend pilgrimage with a session of meditation and close the pilgrimage before we return to Kathmandu evening time at 5pm.
Cost & Booking
All inclusive twin room to share: 390 USD
Single room supplement: +150 USD
For bookings, questions, and enquiries please email us at info@himalayanhermitage.com