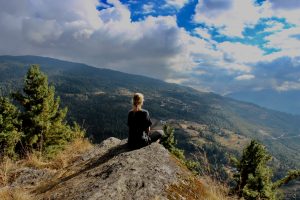 There is no prerequisite for joining a pilgrimage journey, nor is it required to have any knowledge or experience with the practice of meditation. Simply, to have the wish to go deeper with one's mind, and to have curiosity regarding its qualities and functions is enough.
There is nothing religious about the practice of meditation or in visiting sacred places. In fact, there is nothing even Buddhist about it! The idea of pilgrimage here, means that while we are exploring sacred sites, we are also investigating ourselves with a 'tried, tested, and true' introspective process called meditation. The practice of meditation is simply a tool to bring your mind back to a place of naked awareness, to a place of basic space with yourself and environment.
It is simply a technique with which to uncover all the layers of hope, fear, grasping, and judgement that are all such strong habits which cloud the mind. With the practice of meditation, we can learn to come back to ourselves, to become familiar with the groundless, unfabricated, and raw quality of reality. The daily schedule in this itinerary comprises of meditating together every morning and evening – this can be for 30-60 minutes (several sessions of sitting and walking meditation) depending on what the group wants and where we are in our itinerary. Note, on days of extensive travel sessions will not always be possible.