This yoga pilgrimage will be jointly facilitated by embodied voice & yoga instructor Odeya and an experienced Himalayan Hermitage facilitator. The groups will hold the maximum amount of 15 people.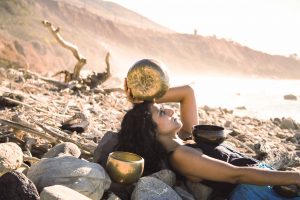 Odeya is a Los Angeles based interdisciplinary vocalist, composer, embodied voice teacher and yoga instructor. Her artistic work ranges from orchestral music to sound installations and healing Voice Baths. She leads workshops and retreats dedicated to the integration of mindfulness, communication, energy and play in releasing the resonant voice. As a solo performer her voice has been heard from Los Angeles to Australia, Madagascar, Mongolia and Vietnam. For more information on Odeya, see here:
www.voicebath.com
– We are very excited to be facilitating this yoga pilgrimage together for the first time!