Introducing the Team Behind Himalayan Hermitage
About Alex d'Artois, Co-Director & Facilitator at  Himalayan Hermitage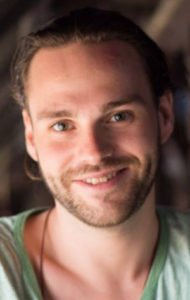 Originally from Montreal, Canada Alex has been based in Nepal for the last number of years and has in-depth knowlege on the many sacred sites of Nepal and the Himalayas.
Alex has studied Buddhist philosophy at a Tibetan monastery in Boudha, Kathmandu and is therefore familiar with a traditional classical Tibetan learning environment. At the same time, Alex's studies in Tibetan Buddhism have stemmed from a psychological or secular interest, which comes out when he introduces these foundational Buddhist practices to a Western audience.
About Sisse Budolfsen, Co-Director & Facilitator at Himalayan Hermitage
Thanks to a wealth of experience in Nepal and in the Himalayan region, Sisse is a knowledge gateway between Asia and the West. For the last eleven years, Sisse has been traveling to Nepal and Tibet. Sisse is originally from Denmark.
Ten years of experience with meditation practice and for the last years, guiding meditation at the Himalayan Buddhist Meditation Center (HBMC) in Kathmandu, combined with local experience as a freelance consultant for various international organisations, her studies of Tibetan Buddhist philosophy and Tibetan language, as well as working as a travel guide in the Himalayan region are the basis of her expertise to found Himalayan Hermitage. Sisse is the founder, as well as photographer and guide of Himalayan Hermitage.
Here is a short introduction to Himalayan Hermitage.