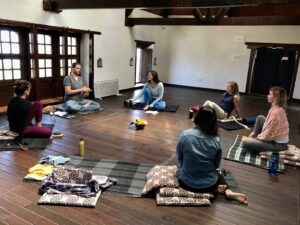 Buddhist philosophy sessions are roughly 1-hour per day, combining a short presentation with group discussion.
Throughout the journey we slowly walk through all 3 yanas (vehicles) of the Tibetan Buddhist path. We explore how & why shamatha/mindfulness (one-pointed 'calm abiding' meditation) + vipassana (insight) are used as tools from the beginning through to the end of the path. The foundational path of the Shravakayana is comprised of: 'The 4 Turnings of the Mind', 'Refuge', 'The 3 Marks of Existence', and 'The Four Noble Truths'. There is an emphasis on exploring the middle yana – the Mahayana (the 'great vehicle' of the Bodhisattvas) which entails: 'Bodhicitta', 'The 6 Paramitas (perfect actions)', 'Shunyayta (emptiness)', 'Relative and Ultimate Truth', and 'Lojong (mind-training)'.
We contemplate Lojong slogans as brought forth in an accessible way by great Tibetan/Western hybrid teachers Chogyam Trungpa Rinpoche and Pema Chodron. We touch upon the final yana of the Vajrayana (Tantric Buddhism) by exploring its many expressions and intricate symbolism. At face value Tibetan Buddhism may look esoteric, but with investigation we may see first-hand how it is simply a system for training one's mind by utilizing various methods which combine mindfulness, compassion, and wisdom cultivation practices.